Nar Design have been shortlisted for Interior Design Concept Award in The International Yacht & Aviation Awards.
This interior design concept by Nar Design holds its roots in the integrity, beauty and naturalness of Pangea. The main hall (160 m2) is fascinating with its natural inner garden that takes daylight from the sundeck floor and continues towards the main deck.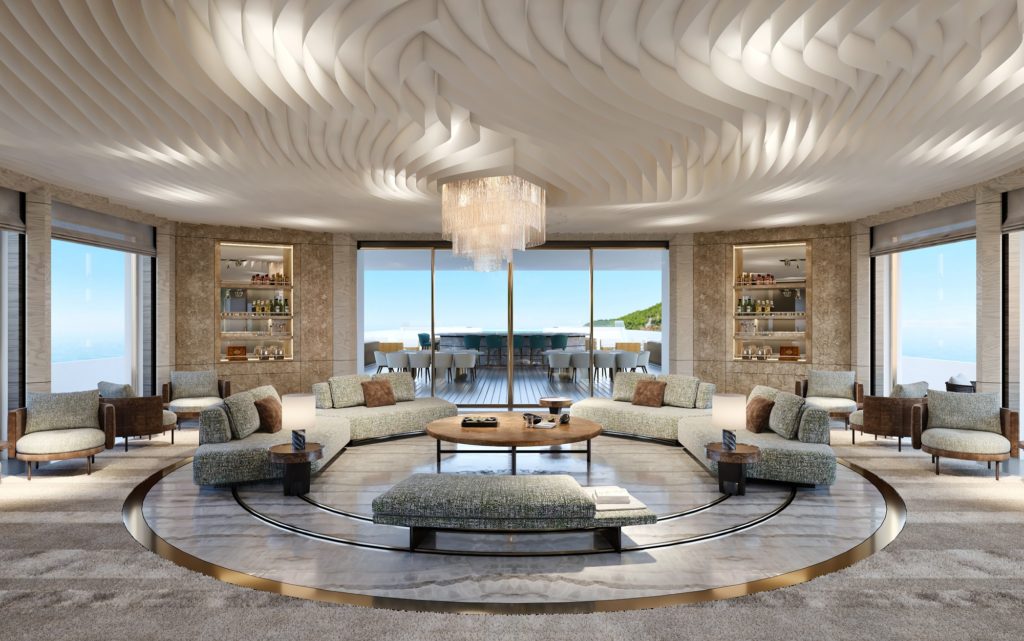 In Pangea's Interior Concept, "Earth" is symbolized by natural stones in different colours and textures used on walls and floors; "Flora" is described by the plants and green coloured natural surfaces surrounding in the inner garden; and "Living Habitat" is represented by wooden materials and the people of course, who will participate to this amazing atmosphere.
In addition, the soft-white rigid woven metal-fabric material in wavy form used on the ceiling is also an emulation of the unique and never-identical movements of the cottony clouds in the "sky".
On the walls, wooden panels meeting the ceiling and floor with special details with elegant wood texture; marble panels in two different colours accompany. The green marble, which is preferred on the garden facade, spreads to the garden floors and walls and offers a magnificent interior view to both the dining area and the sitting area, with its dominant stance over the entire interior.
On the main deck facade, the natural stone cladding in beige tones surrounding the recessed bar units on the right and left sides has been interpreted as a work of art referring to the oldest known human settlement, "Göbeklitepe" with carved plant and animal figures.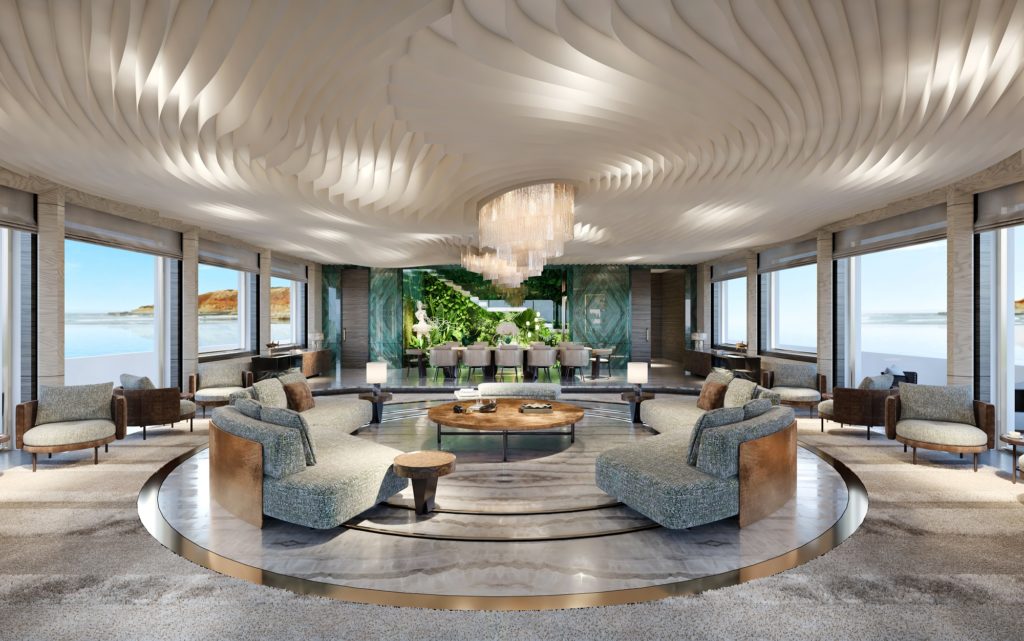 The seating arrangement in the main hall, is designed in two levels, separated with a stair, the details of which continue the general mitre lines of the exterior design. On the upper level, a dining area was created in relation to the inner garden. On the lower level, there are seating areas connected to the main deck by large sliding glass doors.
The large and comfortable lounge seating group in the middle slides on the rails underneath and comes together in different combinations, offering integrated or separate seating, so that the natural movement continues in the interior.
---
design et al only work with the world's leading designers.
If you think you have what it takes to complete in The International Yacht & Aviation Awards, submit your application by clicking here.