Nordhavn Yachts/Pacific Asian Enterprises were the Winners of the Motor Yacht Under 25 Metres Award in The International Yacht & Aviation Awards.
The Nordhavn 41 is the modern passagemaker for today's cruising couple. Available in one or two staterooms, the N41 will take its owners safely and comfortably to anywhere in the world they desire.
With the retirement of the Nordhavn 40 and Nordhavn 43, there was a gap in the product line. Buyers were looking for an entry-level yacht that would cross oceans yet be easy to manage and provide just enough room for themselves and occasional guests. Jeff Leishman created the Nordhavn 41, a slight departure from the rest of the passagemaking line-up by deleting a separated pilothouse and instead incorporating the helm into the main living section of the boat. The result is increased social engagement allowing for those in the galley or saloon and anyone driving the boat to interact with one other. The absence of the pilothouse also gives the boat a lower profile and a much more stable ride at its abbreviated length.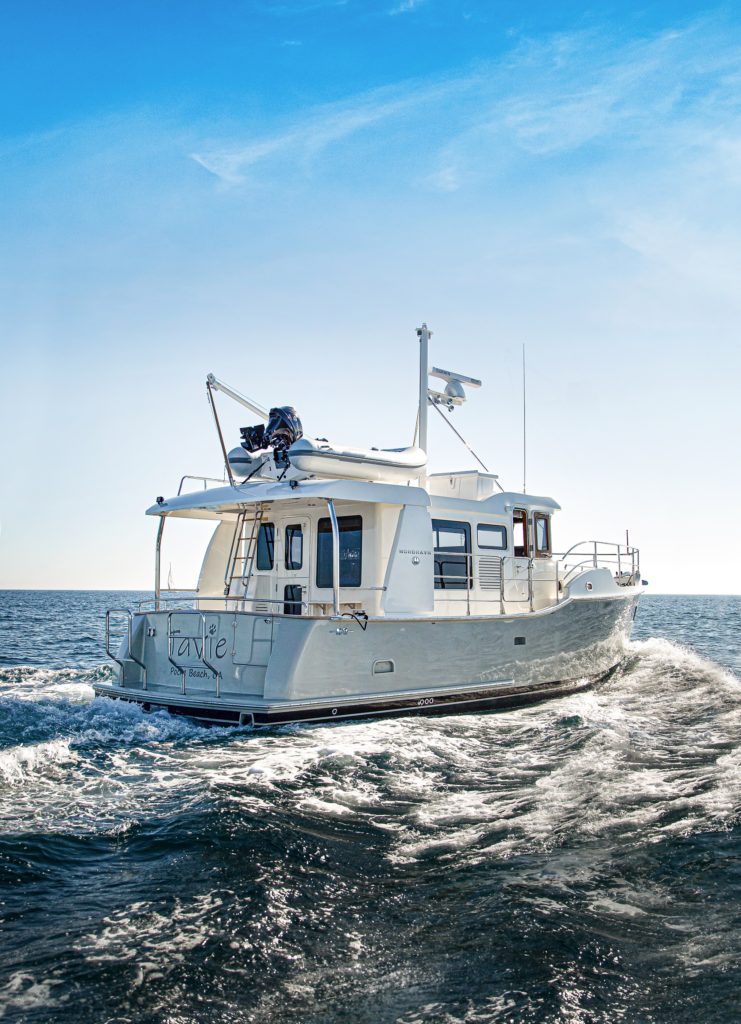 The owners of Tavie had previously owned a Nordhavn 40 and sold it to live in a retirement community. They found they missed the adventure of life at sea and wanted a new and exciting vessel to fulfill their dreams. They looked to Nordhavn for its reputation and track record of safe ocean passages, and to the N41 specifically for its manageability. A key element of the design is its CE certification of Category A (rated for offshore use), the strictest rating a boat can achieve. Despite its small size, the Nordhavn 41's design, construction/use of commercial grade elements and range make it perfect for exploring the far off places Tavie's owners wanted to visit. Aside from creating a capable boat, Leishman gave the N41 a fresh, modern look that reflects the feel of the fleet's latest designs. Sleek lines and pilothouse windows designed with the mullions behind the glass give a more streamlined look while the boat's twin engines and longer waterline make it more efficient.
Inside, the Nordhavn 41 makes the most of its space. Turkish interior designer Mine Aktuna was hired to create the entire inside of the boat from the dash and helm seat to the lighting schedule and overhead cabinetry to the fabrics and color schemes. The owners of Tavie opted to go with a two-stateroom layout, although it is mainly just the two of them doing the cruising. "This boat makes it manageable for us to cruise again. It feels more practical than our last boat and is something we can handle," they said.
Nordhavn Yachts /Pacific Asian Enterprises
---
design et al only work with the world's leading designers & shipyards.
If you think you have what it takes to complete in The International Yacht & Aviation Awards, submit your application by clicking here.