Valerio Dewalt Train / Anderson/Miller, Ltd. have been Shortlisted for Hotel Under 200 Rooms – The Americas Award in The International Hotel and Property Awards 2021.
The design story of the Hilton Canopy Grand Rapids, is also the story of Michigan, the often overlooked true birthplace of American Mid-Century design and home to three iconic furniture brands including Herman Miller. In pulling from this rich history, the design team highlighted Mid-Century aesthetics in the planning, detailing and specifying of modern materials such as breeze block, wood slats, natural stone, terrazzo flooring, pilaster finishes and iconic furniture pieces and then blended them with more contemporary elements to create a fresh and current new modernism. 
The Canopy brand is highly targeted toward 'room-centrics,' or rather, a guest that's less focused on hotel amenities and more appreciative of a room's comfort and functionality. The hotel's living quarters are characterised by 'uncloseted' open racks for storage, full-length mirrors and a window chaise, for enjoying sunlight and views of the exterior. The signature canopy that wraps around the bed was designed with thin wooden slats, which are accompanied with fabrics, furniture and colours that adhere to the contemporary mid-century modernist theme. A large orb-light suspends by the window—a glowing geometric feature that's also seen and experienced from the street. The building's layered brick exterior and steel sash windows pay homage to the warehouse vernacular of the city. To modernize the aesthetic, the north and south sides are cladded with metal panels, contrasted by portions of the concrete structure, which were left exposed.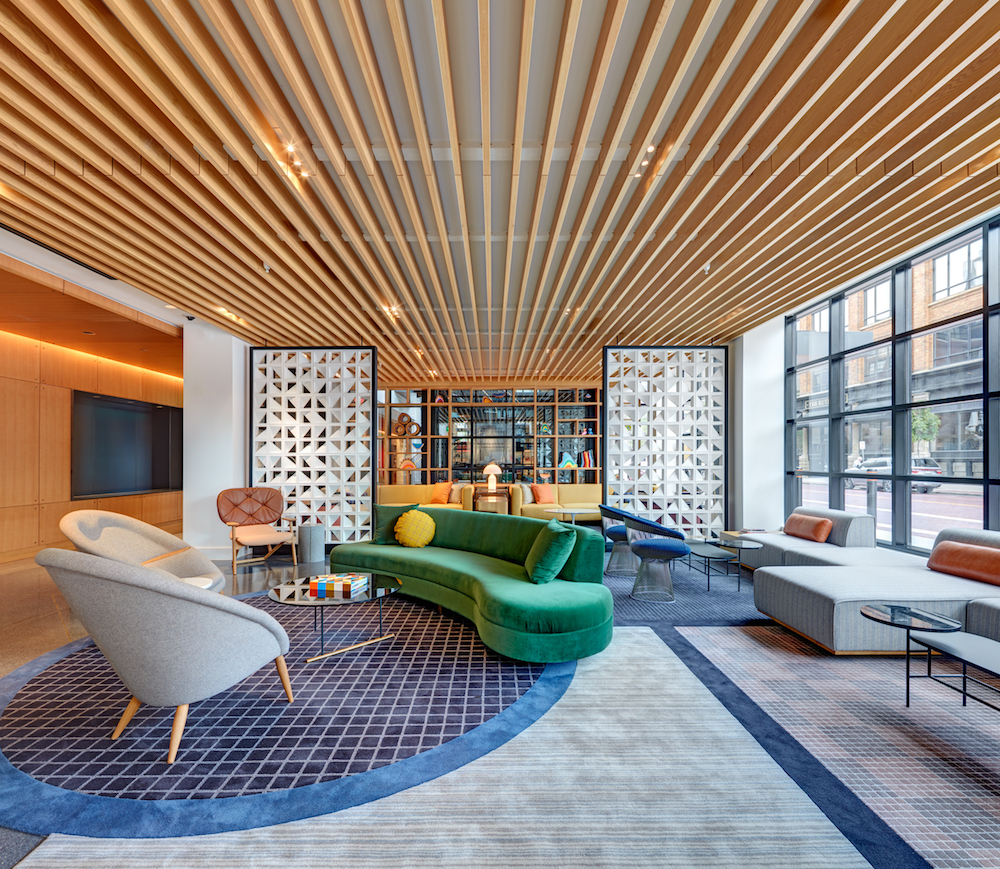 The mezzanine is accessed by a spiral staircase of powder coated steel next to the reception desk. This prominent architectural feature is grounded by a curving brown leather banquette and accompanied by two rare and discontinued furniture pieces left on display—the Grasshopper Chair and Kangaroo Chair. 
The Canopy brand is tailored to young professionals and cultured vacationers that appreciate high-end touches and easy access to local culture, art, museums and historic tourism. The hotel is a modern, yet timeless interpretation of the mid-century modernist movement that brought about a prosperous era to the city of Grand Rapids. 
Valerio Dewalt Train / Anderson/Miller, Ltd.
---
design et al only work with the world's leading designers.
If you think you have what it takes to complete in The International Hotel & Property Awards, submit your application by clicking here.