ESS Group have been shortlisted for Spa/Spa Hotel – Global Award in The International Hotel and Property Awards 2021.
ESS Group has been creating spas and hotel resorts for almost 15 years. They consider Ellery Beach House as their crown jewel, where their years of experience have accumulated in this project. This is a new kind of Spa Resort, where the key aspects of the project are the strong entrance, and the combination of pools with Food & Beverage for a truly calm yet carefree experience. Here, ESS Group have dared to design this place so "non-Scandinavian".
Ellery Beach House is located in the archipelago outside Stockholm, at the far end of Lidingö. Lidingö is an island where the trees and the water come as close as they can. Ellery Beach House is where sports, calmness and recreation are all combined with partying and a lot of love; these are the underlying themes of the resort. The design shows influence from the 60s and 70s, all tied together with the common a common thread of pastel colours, wood textures and the reoccurring nods to the hotel's key themes.
The expansive entrance welcomes guests, and the boules court, open fire and two paddle courts strengthen the vision of a new kind of destination. A large lobby bar replaces the reception. Shuffleboards, table tennis and billiards are mixed with large sofas and beautiful art on the walls. Wood is combined with metal and soft materials with bold colours for a strong yet warm ambience, and the room is filled with furniture and detail.
Externally, the building is integrated with the many trees and water that surrounds it. ESS Group enjoyed working with brown tones on the outside and reimagining these as a stronger impression inside. The three outdoor pools take up a lot of space and are specially designed to integrate with the other environments and buildings. All of these have a view of the Stockholm archipelago.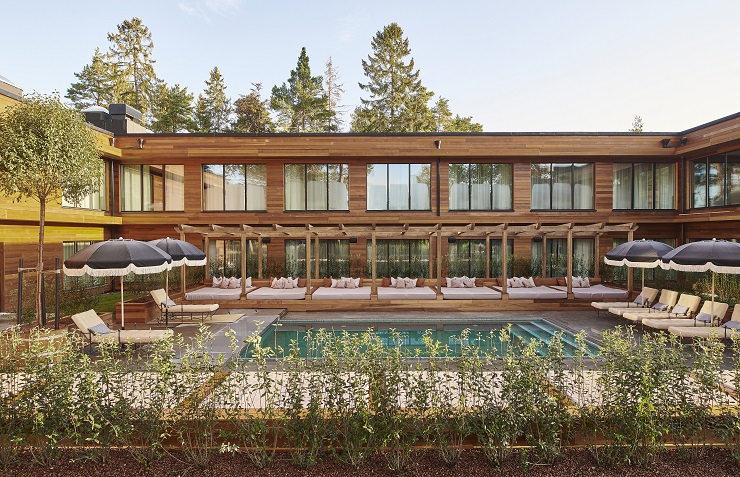 The design for Ellery's bars and restaurants is intended to create strong impressions and a lot of Instagram moments. Palmers is the restaurant you set your eyes on first. Soft but with attitude and highest class on all materials. In Bally Bar, which is the reception, the open fire is central to the concept. Down in the club "Coco", the power is stronger and the expression more sensual. Corridors are dark and create curiosity for the rooms offer views of water, pine and spruce.
The design works so well because ESS Group did not hold back on their vision; crossing Miami and Florida with the best of Scandinavia, whilst keeping their beloved design aspects and key themes in mind.
---
design et al only work with the world's leading designers.
If you think you have what it takes to complete in The International Hotel & Property Awards, submit your application by clicking here.