Eco-ID Architects Pte Ltd have been shortlisted for Restaurant – Global Award in The International Hotel and Property Awards 2021.
Hard Rock Hotel Maldives is part of the multi-islands concept Crossroads Maldives, a man-made miracle of reclaimed islands only 15 minutes boat-ride from Male Airport. The design is truly holistic from the shaping of the reclaimed island to master planning, architecture and interior design. The island shape maximises beach frontages and addresses coastal wave concerns. Coral preservation areas are respected with the island reclamation skirting outside the fringes of the coral zones. Hard Rock Hotel's brand DNA celebrates music and what it stands for. Translated to design, the resort strives to achieve a non static spontaneous experience. The resort centre and reception appears to sit atop of a hill, looking like a single storey structure with a storey below as the resort's main restaurant and pool at beach level. For the playful and adventurous, a slide connects these two levels.
The All Day Dining is at the beach level with a wide frontage, split in parts as a climate controlled room and a covered dining deck area. Overlooking the main beach, splashes of colour are integrated with resort textures as a vibrant outlet.
Accommodations are varied from suites to villas, as 2 storey guestrooms to private single storey villas. Culminating in a fully decked out presidential Rock Star Suite. Whilst the use of colours and shapes in the interior reflects the energy of the brand's DNA, material selection takes care of wear and stress from the tropical climate. Artificial thatch and timber were paired with clean, contemporary elements of flat roofs and modern materials. Forms were also a mix of the traditional such as thatch roofs against a sculpted or clean, contemporary juxtapositions. The beaded ceiling in butterfly motif at the pool bar of The Elephant and Butterfly. Hung under the roof of an open pavilion at the pool bar, a colourful beaded ceiling making up motif of butterflies moves and sways, truly bringing to life the flight of butterflies visually as well as acoustically.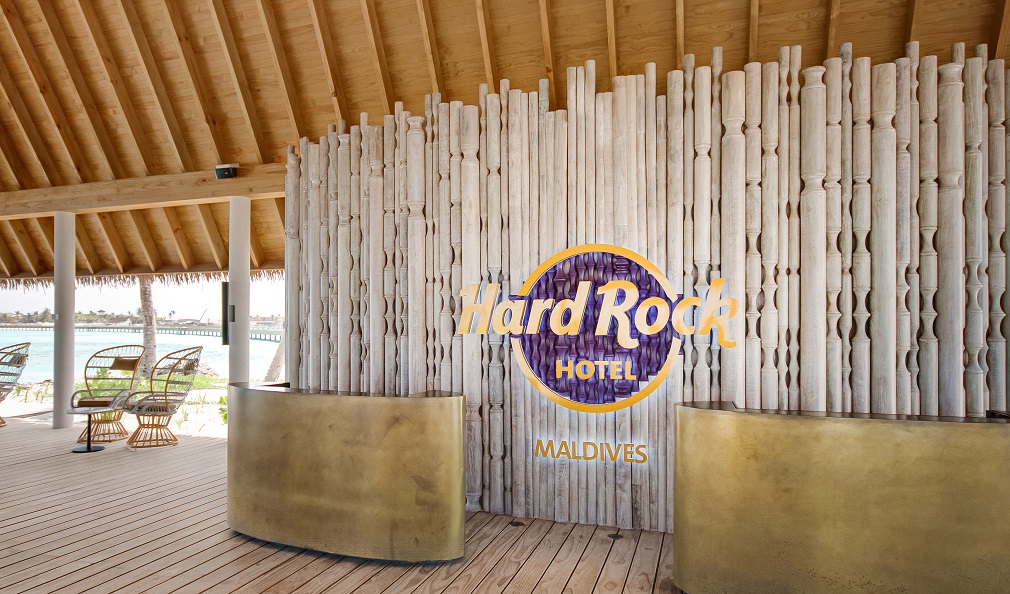 As part of the nine islands archipelago, Hard Rock Hotel Maldives has its own unique identity whilst still being part of a whole. This makes island hopping more accessible in the Maldivian hospitality market when previously visitors to the country are usually just limited to the island resort of their booking.
---
design et al only work with the world's leading designers.
If you think you have what it takes to complete in The International Hotel & Property Awards, submit your application by clicking here.