This week's round up
Take a look at the projects that have recently made the 2020 shortlist and the categories that are about to close for submissions…
As publishers for the design industry globally, we feel it is vitally important that we continue to share your work, promote your new collections, endorse new ideas and innovations and show the design world just how strong we are as a community. We may not be able to travel to conferences, overseas meetings and events for a while, but we at design et al, will do all we can to expose your work to clients globally during this time.
All awards PR, editorial, digital news edits and magazines will be published as usual. Every part of the business will continue to work in the same way. Over the coming days and weeks will be adding to our global communication with additional new edits and PR  on a global level to help keep this industry moving.
---
Recently shortlisted projects in The International Hotel & Property Awards 2020…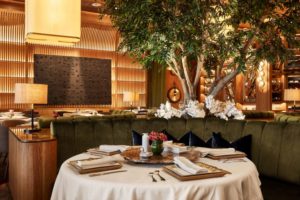 Hunan Artz by Cuaik Arquitectos
Hunan Artz is a Chinese haute cuisine restaurant that contains all the classical elements of its predecessors in Mexico City (Hunan Reforma and San Angel), but lands in a contemporary context in the south of Mexico City. With the recent opening of its branch in the city, Cuaik Arquitectos have completely redefined its interior design concept.
---
Toto by Filipao Nunes Arquitectos 
Inspired by the whimsical and wonderful world of "The Wizard of Oz", this multi-sensory and magical club is the place to be. Filipao Nunes Arquitectos have created an experience like no other, set to intrigue, interest and delight guests.
---
Mozen Asian Kitchen by Kenneth Ussenko Design

MOZEN Asian Kitchen is a multicultural Asian kitchen through the view of a modern American Chinatown. The concept is modern, incorporating both a daytime food order counter and an evening sit down dining experience. With the décor being inspired by the beauty of the Far East.
---
The Higgins Hotel by Kay Lang + Associates

The Higgins Hotel is situated within the vibrant New Orleans Art District directly adjacent to the WWII Museum. It is named after the famous Andrew Higgins, who during WWII invented the Higgins Boat – an amphibious landing craft which assisted with the landing on D-Day of the Normandy shores.
---
CATEGORIES REACHING CAPACITY AND DUE TO CLOSE FOR SUBMISSIONS:
As we continue to support and promote the global design industry, we remain inundated with applications from all over the globe. Consequently, various regional and global categories will soon close:
Restaurant – Global: this category refers to restaurants located from all across the World. We would expect to see the different areas and aspects of the restaurant.
Hotel Over 200 Rooms – Americas/Caribbean: this category refers to hotels that have 200+ rooms specifically located in America and the Caribbean. We would expect to see the hotel suite, lobby/public areas, restaurant in the hotel if applicable etc.
Hotel Suite – Americas/Caribbean: this category refers to individual hotel suites specifically located in America and the Caribbean. We would expect to see the inside the hotel suite.
To review our full list of categories, please click here.
---
design et al only work with the world's leading designers.
If you think you have what it takes to complete in The International Hotel & Property Awards, submit your application by clicking here.