Atwater Inc Studio have been Shortlisted for Hotel Under 200 Rooms – The Americas Award in The International Hotel and Property Awards 2021.
Inspired by the Colorado River and the majestic red rocks of Arches National Park, the design of the HooDoo Moab tells the stories of explorers discovering and celebrating the dramatic and remarkable nature. A rich, warm colour palette, infused with accents of terracotta and effervescent earth minerals, sets the tone. Artfully incorporated elements, such as petrified woods, rustic metals and soothing sandstone, create a unique sense of place throughout the hotel décor. 
Hoodoo Moab's elegant, yet rustic atmosphere is on full display as you enter the hotel. The towering lobby is filled with sophisticated details and embellishments that put the region's natural aesthetics on display. The rusty Corten steel columns are reminiscent of the rich mountain region and the curvaceous grand staircase, with driftwood railing, leads the eye towards the sky bridge that connects the guest rooms with the ballroom arena. The views and windows are designed to take full advantage of the mountain region and spectacular La Sal Mountains. Custom designed furniture, petrified table-tops, rich hand tufted area rugs that emulates the regions rugged but elegant nature, allows for an elegant yet casual atmosphere. 
Surrounded by a sea of red cliffs and striking, striated desert skies, the design team imagined the guest rooms to complement the nearby natural wonders. Designed to be in dialogue with its environs, the horseshoe-shaped building hugs a central courtyard with each room oriented towards panoramas of sandstone buttes. The team visited Moab and fell in love with the terracotta-coloured rocks, the dinosaur road, the murky Colorado river and realized they couldn't compete with this. They had to embrace the environment and celebrate the dramatic nature and history.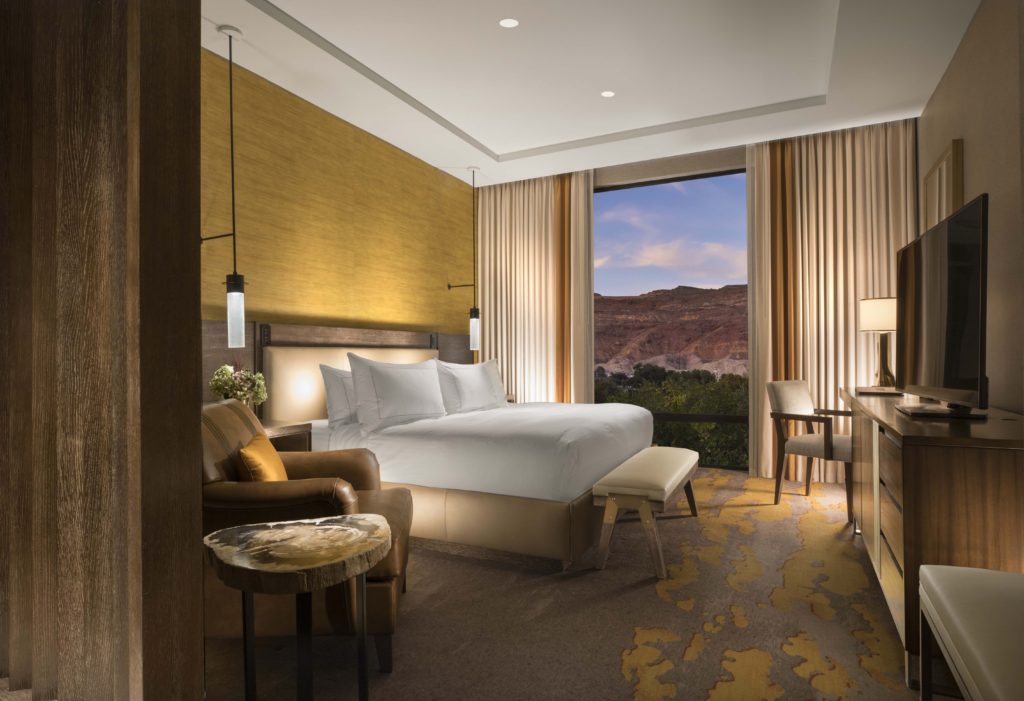 A collaborative effort between the designers, the owners and Hilton's design department, the HooDoo's personality is uniquely luxurious, yet a place where traveller's feel comfortable at home. While Moab has always been a beautiful travel spot, it hasn't been a luxury destination. The new, three-story, 130,000-sf HooDoo gives visitors an opportunity to balance the rugged outdoors with a pampered luxurious experience. 
---
design et al only work with the world's leading designers.
If you think you have what it takes to complete in The International Hotel & Property Awards, submit your application by clicking here.