Archer Design have been shortlisted for Luxury Residence – Asia Pacific Award in The International Design and Architecture Awards 2021.
The client commissioned Archer Design to create an elegant, modern home crafted for easy indoor/outdoor entertaining and as a backdrop to a carefully curated collection of modern Australian art, high level international furniture and exemplary materials and detailing. The garden by Anthony Wyer of Wyer & Co is an important part of the design of this villa as the indoor/outdoor lifestyle is a key feature of the relaxed Sydney lifestyle thanks to our great weather. It also gives a stunning 'jungle' backdrop to the Sitting Room and provides a high level of privacy that was very important to our client. Most of the large trees were craned in by large barges on the harbour which was a highly complex undertaking. There was very little planting before we renovated the villa and our client wanted all the gardens to be well established before they moved in.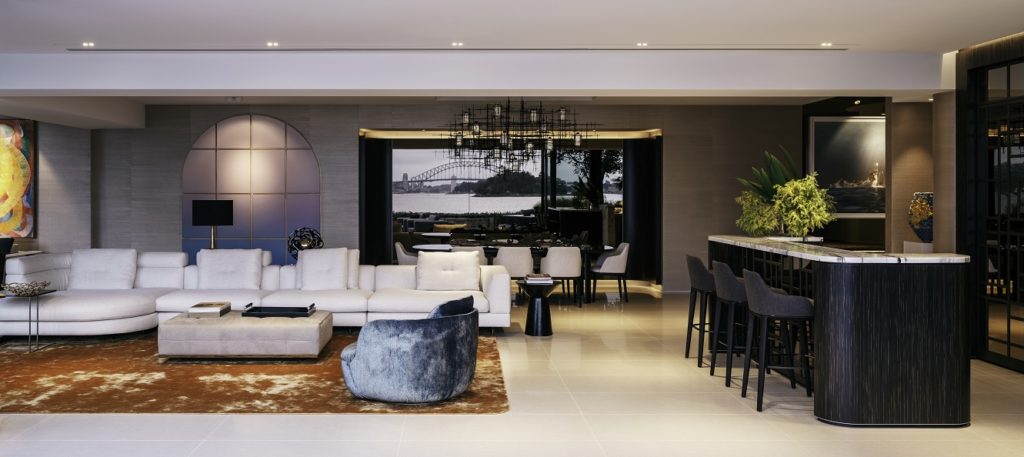 Archer Design created a home with a relaxed, elegant and timeless ambiance, designed it so that the harbour view was a celebrated feature, but in the evening (when the harbour is dark) the artworks become the main feature element. Selecting and lighting these large works was a key part of our scope. At night many of the paintings seem to 'float in space' as they have been suspended over deep bronze glass mirrored wall panels.
Archer Design worked with international artists and craftspeople such as Cox London on the custom over-sized steel and glass abstract 'Ferro Vitro' chandelier over the dining table, Blackbody from Paris for the 11 metre long pendant 'IRain' light that drops through all 4 levels of the home surrounded by the swirling staircase, and Hervé Van der Straeten on the bold 'Mic-Mac' feature pendant in the Master Ensuite and the stunning mirror finish stainless steel 'Cristalloide' console on the main Living level Lobby. These highly complex feature pieces are carefully located throughout the villa to contrast with the simple modern architectural forms of the interiors.
This is a home that in many ways represents the ideal Sydney lifestyle. Relaxed, elegant indoor/outdoor living with a timeless effortlessness achieved by careful detailing, and attention to detail. A fine balance has been achieved between the fine art and furniture collection of the interior spaces and the lush landscaping and stunning views of Sydney Harbour.