Purpur GmbH interior concepts have been shortlisted for Kitchen Design Over £50,000 Award in The International Design and Architecture Awards 2021.
Upon entering the apartment, the lounge area opens majestically to the skyline, embedded in the black and white designed marble floor. It reflects the light and stages the furniture radiantly and brightly illuminates the property. As pulled on a chain, the hallway opens up room by room, supported by individual highlights and a changing light concept. The kitchen is the centre of the family and the centrepiece in this penthouse. It integrates perfectly into the environment of the dining room and has a welcoming atmosphere. 
In the guest toilet, golden fish swim almost three-dimensionally into the room. In the dining room you live and sit in a landscape of design reminiscent of nature, which is adjacent to the turquoise living room, deliberately darkly designed. The functional kitchen, the centre of the home, is a challenge for the viewer as different structures and materials radiate an experimental and a warm atmosphere. 
Purpur GmbH interior concepts feel that the best aspect of the apartment is the interplay of materials and colours. From every angle you are able to see the diverse world of materials and how they harmonize together. The design works so well as it is a completely new and exciting kitchen which has been integrated into the open room situation. The owners were very keen to experiment and insisted on a mix of materials. The kitchen is composed of various surfaces of two different woods, bronze surfaces and white marble. A mix that is coherent in itself and creates an exciting image.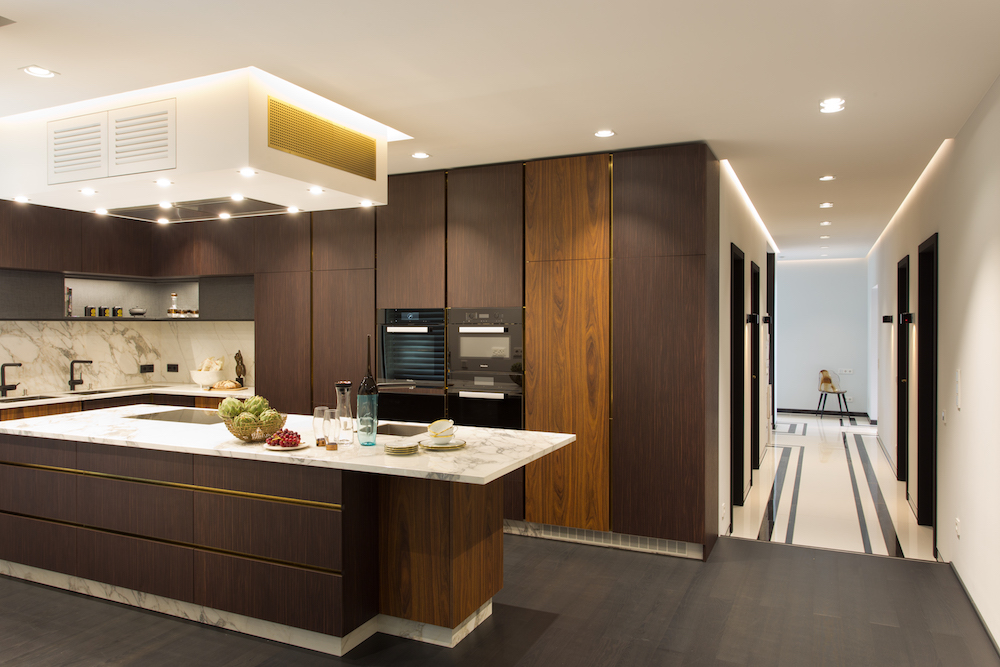 ---
design et al only work with the world's leading designers.
If you think you have what it takes to complete in The International Design & Architecture Awards, submit your application by clicking here.