Henrietta Southam Design have been shortlisted for Kitchen Design Over £50,000 Award in The International Design and Architecture 2021.
This charming yet elegant kitchen conceptualised by Henrietta Southam Design carries endearment as well as functionality by ticking all boxes, from intricately detailed cabinetry to top of the line finishes.
The Barnyard Beautiful kitchen design brief was to strike the perfect balance between rustic charm and refined luxury. This was undoubtably the most complex kitchen cabinetry layout Henrietta Southam Design has accomplished. The house was entirely post and beam: this was where both the beauty and constraint lay. There was no moving, nor dissembling of the beams. Finding space and appropriating volume were the designer's limitations and challenge. To create the space to hide two of the diagonal ties that stretched 3 feet from vertical post to horizontal beam, the designer made custom iron angles. One is buried on the far-right side of the range wall, and the other behind the bookshelf.
Balance and symmetry are cornerstones to Henrietta Southam Design's aesthetics. They chose a soft grey for the cabinets to match the veins of the slab that started it all. The waterfall island counter is a Mont Blanc granite, a granite in name and strength only with a likeness to opalescent onyx. The slab was hand-picked in person by the client and designer. The backsplash is hexagonal pieces of statuary white marble from Eurotile and Stone. The client's husband had worked at the highest management level of a worldwide luxury hotel chain and was partial to great hardware. The sink faucet and pot filler were the imported from Waterstone, a U.S. water filtration company turned top of the line faucet designers. Amongst the plethora of details the Waterstone faucet and pot filler are captivating, truly this kitchen's jewellery.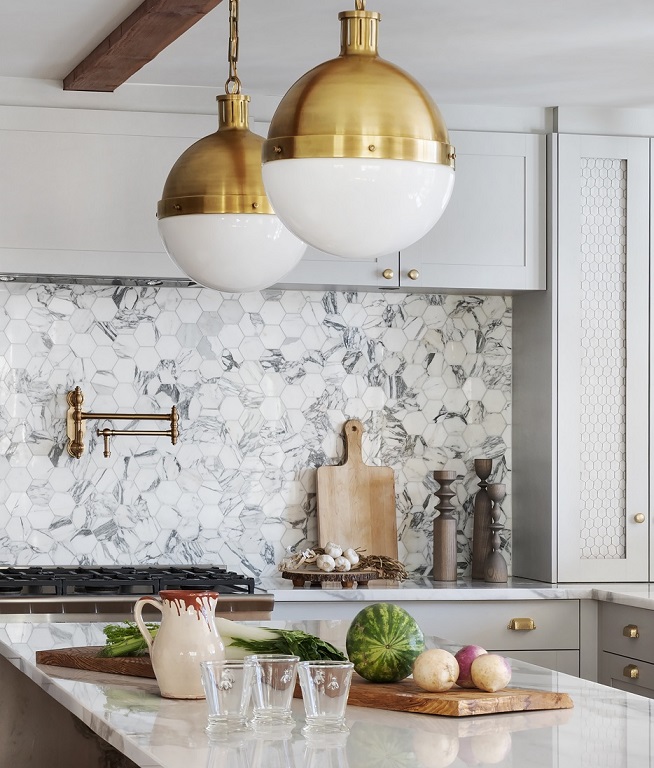 A more fervent wish of the client was to pare down the overwhelming amount of structural wood. This was done by applying drywall to the ceiling, hiding the electrical junction boxes at the same time. The pastoral charm of this household harmoniously balances thoughtful design choices with influences of the naturally beautiful Québec countryside. Rustic yet luxurious describe both the project and its surroundings. Ensuring to not disturb the home's existing chalet qualities whilst adding polish and elegance guaranteed a seamless transition from inside to out, making its location key to the overall experience.
---
design et al only work with the world's leading designers.
If you think you have what it takes to complete in The International Design & Architecture Awards, submit your application by clicking here.