Gerhard Architect have been shortlisted for Residential Project Value £1-2.5 Million Award in The International Design and Architecture 2021.
Modern, contemporary, eco-friendly: House C is a family home in sought after Estate of Ballito. The integration between indoor and outdoor living, and stunning selection of enhanced vistas bring Gerhard Architect's project closer to it's surroundings whilst remaining homely and welcoming.
The clean horizontal lines make House C a modern architectural piece of art. The open plan layout provides a necessary spaciousness to this family home, as well as integrating a seamless transition between inside and outside living. The design brief was for an eco-friendly family home that maintains modernity, embracing the site and orientation whilst maximizing the distant sea views. There was a strong focus on the views that the residence offers and incorporating a sense of arrival across the home. To maintain their client's privacy and the residence's homeliness, Gerhard Architect comprised a separation of private and entertainment spaces.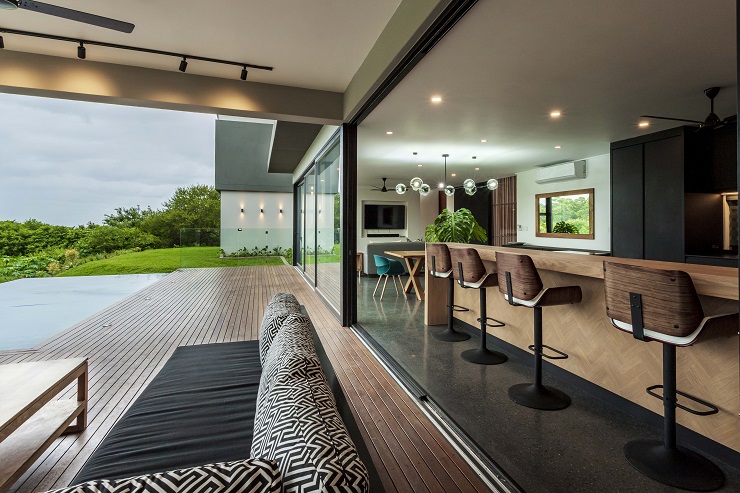 It is well integrated into the environment, being nestled into the site and embracing the greenbelt and forest frontage whilst maximizing the stunning sea views. It is not at odds with the site but rather at one with it. Only one tree had to be relocated to allow for the design implementation and natural ventilation is the main form of cooling in this warm subtropical climate.
Strong, bold elements and clean lines give definition to the architecture but the residence still has a modern homely feel. This is among Gerhard Architect's favourite elements of the home, as well as the generously sized rim-flow pool.
---
design et al only work with the world's leading designers.
If you think you have what it takes to complete in The International Design & Architecture Awards, submit your application by clicking here.