Stark Design PL have been shortlisted for Living Space – Global Award in The International Design and Architecture Awards 2021.
This project represented the final phase of the redesign of a family home. It was fraught with challenges. The most challenging constraints were the poorly resolved architectural features such as the ceiling height, column and front door placement. This was coupled with an illogically placed and sized window which interrupted wall space for artwork and a potential floating fireplace. A bold wall colour now defines the space and curtains were hung from under the cornices to raise the ceiling height. Luxurious materials and finishes such as metallic velvets and silks, burnished and antique brass, bronze glass, marble details and splashes of yellow were used. In the powder room the dark palette was repeated incorporating locally made wallpaper, a bespoke resin basin and joinery and a hand-blown glass pendant. In addition, the designer honoured but edited the client's art and artefact collection.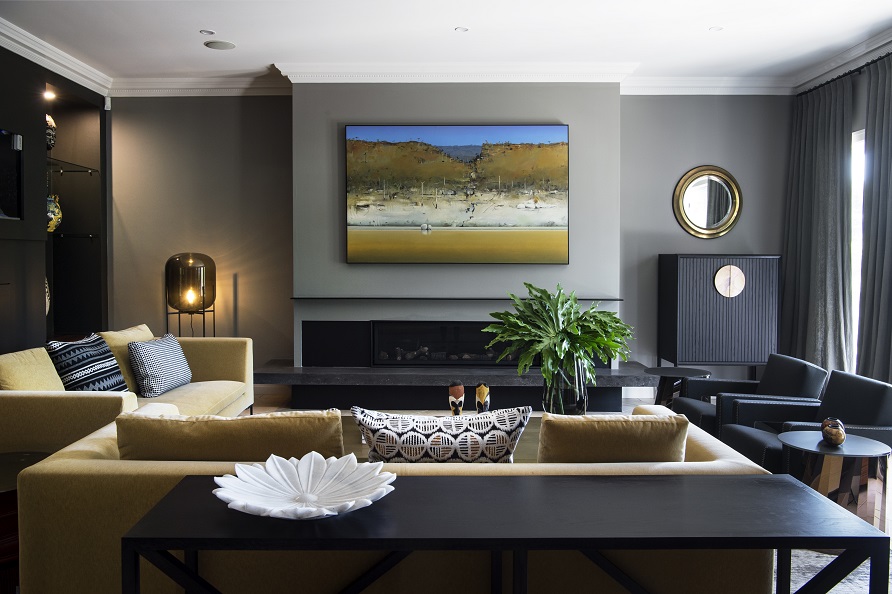 At the heart of contemporary interior decoration practice is the art of creating a home which truly reflects the client. Collaboration is paramount in order to create a home rather than just an interior. Stark Design provided a fresh approach to solving the design problems, narrowing down the choices and found innovative ways of integrating existing features into the new home. Constant communication with the clients enabled ideas to evolve and the myriad of choices to be refined. Their treasure trove of collected art and artefacts reflected the colourful, lively and fun inhabitants. It was edited and the end result is a home which the client says instils confidence and really reflects who they are. They love that their home incorporates their existing furniture, art and artefacts and that it is the integration with new which makes the old shine.
A once rarely used, walk-through space, is now a room within a room. It is a handsome entrance and living area, anchored with a fireplace and robust gutsy furnishings. The room has a focal point, a purpose and a soul. It also now relates to rest of the house and compliments the more private sanctuaries. Behind the living room at the front of the house, lie the informal areas – a family room adjacent to the kitchen and further into the home, completely private sanctuaries such as studies, bedrooms and a media room nestled upstairs.
The proof of a well resolved room is how frequently it is used and enjoyed. The clients report that this room is loved and enjoyed by both family and friends alike.
Original artworks were sourced from Australian artists and local Artisans provided a bespoke drinks cabinet, brass lamps, bathroom basins and hand printed wall paper.
---
design et al only work with the world's leading designers.
If you think you have what it takes to complete in The International Design & Architecture Awards, submit your application by clicking here.