International Designers by Rita Chraibi have been Shortlisted for Luxury Residence – Americas Award in The International Design and Architecture Awards 2021.
Overlooking Biscayne Bay, this Miami abode aims to harmonise high fashion with interior design. Rita Chraibi was selected as the designer of choice for this prestigious waterfront home for her unique and unprecedented signature style. The notable $35 million property is spread across two floors of open space, the sprawling 15,731-square-foot villa features eight bedrooms, eight bathrooms, and three powder rooms.
The combination of fashion and interior design was essential to elevating each space to its highest potential. Fuelled by a desire to surprise and offer the unexpected, International Designers selected pieces from Roche Bobois' collaborations with Jean-Paul Gaultier, Christian Lacroix, Kenzo Takada, and fabric brands Lelievre Paris and Missoni Home. Working with Roche Bobois, who are experts in creating Haute couture-styled furniture that breaks barriers, brought her vision to reality.
The home is adorned with various artwork consisting of unusual pieces, such as a massive steel cactus, created by Rita Chraibi. Other works of art intuitively displayed throughout the residence include mixed-media pieces by Verónica Pasman from Galleria Ca' d'Oro. These works include acrylic paintings, primarily ink and gold foil on paper and canvas, featuring sparse nature scribble often overlapping colour stains, and expressive brush strokes to highlight nature and the translucent palettes of the ocean.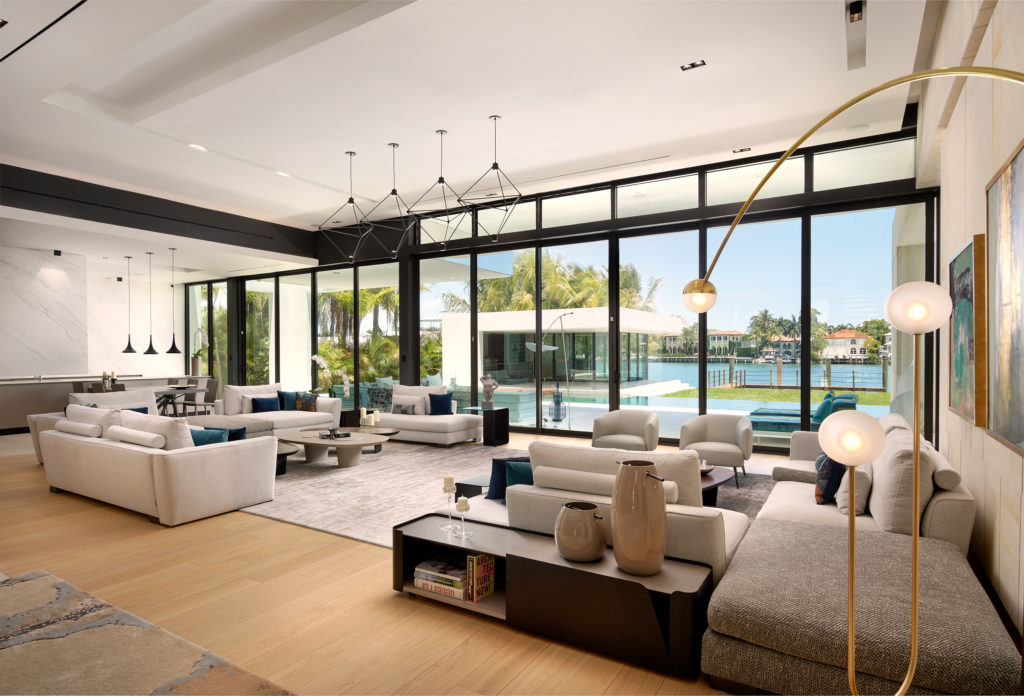 Throughout this contemporary villa, each couture fashion house was incorporated, designing the bar lounge with Roche Bobois' pieces upholstered in haute couture fabrics by Jean Paul Gaultier, who's elegant style is suitable for sensual, lounge spaces. Pieces from the brand's collection with Christian Lacroix can be found throughout the dining room and the master bedroom, presenting a solemn and distinguished nod to the French "Art de Vivre" style. Both the great room and the guest room incorporate blue tones which effortlessly complement its surrounding water views using graphic and delicate patterns by Kenzo Takada. The pieces created by Roche Bobois go against the assumption that haute couture can only be seen and appreciated in major fashion shows, bringing it into the home to be enjoyed.
International Designers by Rita Chraibi
---
design et al only work with the world's leading designers.
If you think you have what it takes to complete in The International Design & Architecture Awards, submit your application by clicking here.